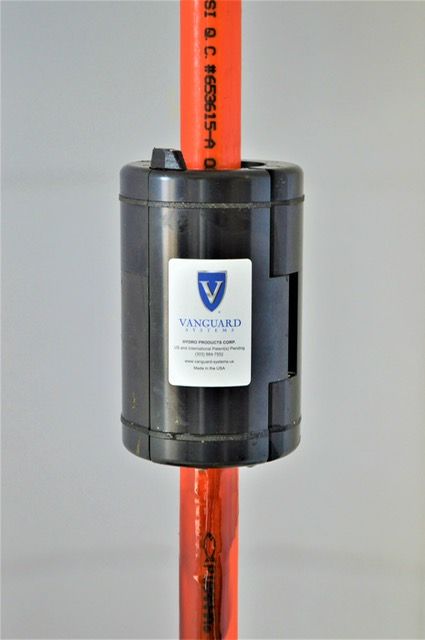 THE PROBLEM
For years, the wastewater industry has known that wastewater and raw sewage contain an abundance of dangerous bacteria, viruses, and parasites.
Continuous exposure to these pathogens poses a health risk to operators, and several industry organizations[1], including OSHA[2], have finally acknowledged this fact. Public health officials have recently sounded the alarm on a new health risk posed by antibiotic-resistant bacteria known as "superbugs." [3] These "superbugs" are resistant to treatment by our current arsenal of antibiotics. Medical experts have also warned us that new antibiotic drug development is at an all-time low, with no guarantee of future success.[4] At the same time, viruses are busy changing their genetic structure and reproducing new forms of themselves.[5] The results could be equally dangerous.
Of particular interest to our industry is a new wastewater study finding "MRSA," a highly dangerous "superbug," in three out of four wastewater treatment plants tested.[6] "Superbugs," previously confined to hospital isolation wards, are now commonly found in sewer lines and wastewater treatment plants. Cleaning sewer lines exposes sewer workers to these "superbugs" and other viruses.
MRSA Infections Are Responsible For Over 20,000 Deaths A Year In The US.[7]
[1] Safety and Health in Wastewater Systems, Manual of Practice, Water Environment Federation
AFSCME Health 7 Safety guide for Water & wastewater treatment Plant Workers
[2] OSHA 29CFR, Part 1901.120
[3] B Spellberg, The Epidemic of Antibiotic-Resistant Infection, CID 2008:46
[4] M. Herper, How to Avert an Antibiotic Apocalypse, Forbes, 2013
[5] Cantalupo PG, et al. 2011. Raw sewage harbors diverse viral populations. mBio 2(5):e00180-11. doi:10.1128/mBio.00180-11.
[6] Bob Roehr. 2012. MRSA in waste treatment water poses a potential risk. Environ Health
Perspect BMJ 2012;345:e7673
[7] New Scientist, January 2011
The Vanguard System removes up to 98% of bacteria and viruses found on the jet hose.
[1] The 'jet hose' is the component of a sanitary sewer truck handled most often by wastewater workers; therefore, it is the primary culprit behind the transfer of bacteria and viruses from the sewer to the operator. In addition, the Vanguard System provides a spray nozzle attachment that allows the crew to apply the same anti-bacterial, anti-viral solution (Sani-Solution™) to the work area, external controls, and commonly touched surfaces on their truck. It also gives sewer workers the water volume and "big time" cleaning and killing power required for effective SSO clean-up.
The Vanguard System's modular design makes it easy to mount on any combination, jet, or CCTV truck. With the push of a button, it pumps Sani-Solution through a delivery hose to a lightweight manhole roller or spray nozzle attachment.
The Vanguard System costs only a few dollars a day to operate, and reductions offset the investment in lost time due to illness, health insurance premiums, liability exposure, and employee morale.
Constructed from stainless steel, "6061" aircraft aluminum, and the highest quality electrical and mechanical components, the Vanguard System is trouble-free and built to last – proudly made in the USA.
Before and After the Vanguard System
Sometimes our tools can become unrecognizable because they are coated in so much bacteria and dirt. What may seem like a harmless layer of mud and crud is often so much more, when working in the wastewater industry. That's why here at Vanguards Systems, we have crafted a wastewater and sewage treatment safety solution: the Vanguard Pathogen Defense System. Here is what you need to know about it and how it has helped wastewater teams across the nation. Get more information and reach out to us today!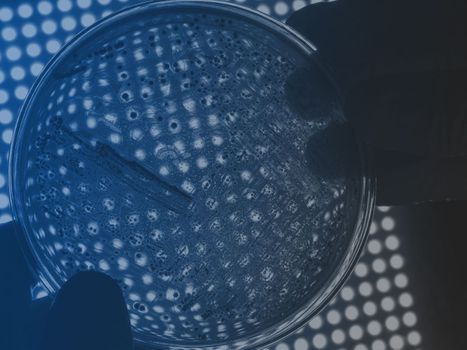 Remove Up to 98% of Bacteria & Viruses
The Vanguard Pathogen Defense System is a preventative attachment for trucks that sanitizes, disinfects, and cleans your appliances. The Vanguard spray nozzle attachment allows your crew to wash their work area, external controls, and high-contact surfaces throughout their sewer cleaning truck with Sani-Solution™. From your jet hose to your windshield, get protection from wastewater hazards.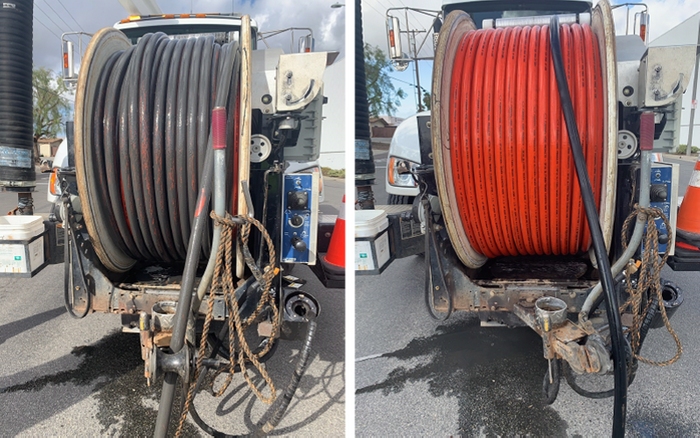 Customer Testimonial - It does so much more than just protect from dangerous pathogens
Working for an agency in Southern California, Matt installed his jet truck with the Vanguard Pathogen Defense System. Afterward, he and his co-worker put it to use in a low area that regularly requires service. But first, they did a run without the Vanguard cleaning collar. They jetted up the line and retrieved their hose coated in the typical black sludge they were used to. Then, they snapped on the Vanguard cleaning collar and put the Vanguard System to the test. With Vanguard protection, the hose was nearly spotless!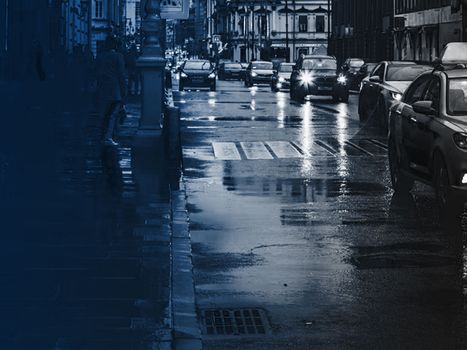 Whether your crew uses straight jet trucks, combination trucks, or CCTV trucks, you need the Vanguard Pathogen Defense System. Not only is it top-of-the-line protection, but it is also easy to install and can save you money by shielding your wastewater workers from illness and limiting both liability exposure and health insurance premiums.
No matter your work destination, your treatment team is at risk of infection when working with wastewater. To make sewer cleaning and storm drain cleaning easier, get the Vanguard Pathogen Defense System. Contact us today to learn more about this innovative germ destroyer!